Australia Just Thwarted the Largest Terrorism Plot in the Country's History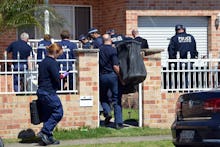 Days after Australia raised its terror level alert to high, security officials have carried out the largest counterterrorism operation in the nation's history. Authorities said Thursday they foiled an alleged plot by Islamic extremists connected to Islamic State to behead a random member of the public on film.
More than 800 security forces, including police officers from the Australian Federal Police and agents from the Australian Security Intelligence Organization, conducted raids on 25 homes in Sydney and Brisbane on Thursday morning.
TIME reported that 15 people were arrested, and that one suspect, 22-year-old Omarjan Azari, appeared in court Thursday. 
"There was a clear imperative to commit an act to shock, horrify and terrify the community as a whole,"  Commonwealth Prosecutor Michael Allnutt said. Azari will return to court in six weeks, the Sydney Morning Herald reported.
According to Australia's ABC News, the plot involved abducting people off the street, draping them with an Islamic state flag and beheading them. 
"You know it is of serious concern that right at the heart of our communities we have people that are planning to conduct random attacks," New South Wales Police Commissioner Andrew Scipione told reporters. 
The timing is fortuitous. On Sept. 12, Australia raised its terror alert level to high for the first time since the system was implemented in 2003. According to guidelines, an alert level of "high" means a terrorist attack is likely. However, Australian Prime Minister Tony Abbott said at the time that law enforcement authorities had "no specific intelligence of particular plots." 
As CNN reported, Thursday's raid occurred days after news broke that Australia would join the international coalition to fight IS. TIME noted that the raid happened on the same day that "10 Australian military aircraft, 400 support personnel and 200 special-forces troops were dispatched to the United Arab Emirates."
It also follows the arrest of two men in Brisbane on Sept. 10 for allegedly "recruiting, facilitating and funding people to fight in Syria," ABC News reported. 
Terrorism in Australia? Really? With the group's latest spate of recorded beheadings, international anxiety over IS has been growing over the past several months. But as Thursday's raid shows, Australia seems to be feeling a particularly large degree of pressure. 
Clive Williams, an adjunct professor with the Department of Policing, Intelligence and Counterterrorism at the Australian National University, told TIME the country's handling of citizens with possible terrorist links may be a factor: The passports of more than 50 such people have been canceled in the past two years, which "has resulted in a large pool of frustrated people," he said. 
However, according to Andrew Zammit, a researcher at the Global Terrorism Research Center at Monash University, Australia's jihadist scene is relatively small and also fairly new. This has resulted in heavy surveillance by government agencies, which has yielded positive counterterrorism efforts so far.
But as Alexandra Phelan, a Ph.D. researcher at Monash University, told news.com.au, the sheer size of Thursday's raid is worrying. Though this doesn't mean an attack is "imminent," she said, it adds a layer of complexity to the matter. 
"At the moment it is quite uncertain as to how this will play out," she said.