One Man Asked Grindr Users About Scottish Independence, and the Results Are Hilarious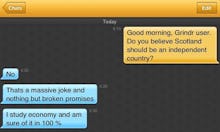 The news: The latest official polls show that independence might not be in the cards for Scotland, but one man wanted to find out for himself. His method? Quizzing users he found on Grindr, a dating app for gay, bi or curious men.
Tumblr user machotrouts — who is himself in favor of independence — decided to ask 655 Grindr users their thoughts on Scotland's big vote. Of those that responded, 114 said they weren't in favor of breaking away from England, while 110 said they were. "So there you have it," he writes. "When only decisive opinions are taken into account, Grindr votes NO to independence, with a 54-46% split."
Some of the users were keen to discuss the nitty-gritty politics of the issue: 
While others, uh, weren't: 
Some had already decided how they would vote: 
He also encountered some who found the whole system evil: 
Of course, given that Grindr is a dating service, many users were focused on other things: 
Some were angry he was asking them that kind of thing in the first place: 
And some, finally, realized what was happening: 
But that doesn't mean they were happy about it: 
The actual vote is underway, and the world will soon know whether Scotland wants independence. Until then, Grindr may be the most entertaining exit poll to watch.