A Texas Homecoming Queen Just Took on Two Mean Girls in a Bold Stand Against Bullying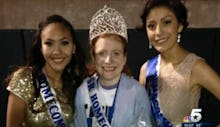 The world could use a little more of this: Two friends at Grand Prairie High School in northern Texas corrected their classmates' cruel prank on another student by awarding her the year's homecoming crown.
Some mean-spirited female students made fun of 17-year-old Lillian Skinner by trying to fool her into thinking she had been nominated for homecoming court. After seniors Anahi Alvarez and Naomi Martinez heard about how cruelly their classmates were treating longtime friend Lillian, they decided that they would share the crown with Skinner if they won.
Principal Lorimer Arendse told NBC, "In all my time in school, this is probably the greatest moment I've ever experienced as a principal."
It was Arendse's job to escort Skinner onto the field, under the guise of helping to take pictures of the homecoming court's procession. So Skinner had front row seats for when her friend, Anahi Alvarez, was named 2014 homecoming queen.
Talk about best friends forever. This is the kind of good deed that you remember and cherish for the rest of your life.
Alvarez and Martinez's noble effort to undo a cruel prank should serve as an example to students around the country. According to StopBullying.gov, more than 28% of U.S. students in grades 6 through 12 have been the victim of bullying, while 41% of school staff report seeing bullying once a week or more. Bullies don't go away after graduation, either: A recent survey by CareerBuilding found that an astonishing 1 in 5 employees is the victim of workplace bullying. Fifty-eight percent of those who reported the bullying to HR said their complaints were ignored.
Fighting bullying is going to take a lot of time, work and effort, but it's also going to require a lot more of us to step up in defense of the bullied. Bravo to Alvarez, Martinez and Skinner for setting an example for the rest of us.