The Most Common Job Listings in Every State, in One Map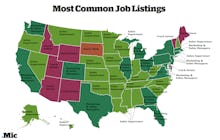 Looking for a job in Utah? You might check out the listings for truck drivers, the top occupation in demand in that state.
It turns out truck drivers are the most demanded occupation in multiple states, including Idaho, Colorado, Arizona, New Mexico, Delaware, New Hampshire and Maine.
STEM advocates, take note: While we're waiting for a technology revolution to transform the workplace, the most common occupations still revolve around an old-school economy: jobs involving sales, marketing and logistics.
The map below shows the occupations most frequently appearing on job listings in every U.S. state.
Source: National Resource Directory and National Labor Exchange, via Hunch Analytics. Data consists of 849,800 job openings as of March 2014, for employers who have indicated a preference for veterans.
Here are a few example job titles for each of the categories above.
Marketing and sales managers: Internet marketing manager, marketing administrator, district sales manager, export manager
Sales supervisor: retail cashier supervisor, telemarketer supervisor, deli manager
Stock clerk: warehouse clerk, inventory control clerk
Truck driver: pizza delivery driver, route sales associate, cement truck driver
The job listings map is part of a broader public-private partnership, to which Mic is a contributor, that is using data to improve the job market for recently returned U.S. veterans. Check out the project at veteranstalent.io.
One of the goals of the partnership is to close the "skills gap" that exists for veterans looking for private sector jobs for the first time. Judging from the prevalence of job listings for sales, one take-away might be to expand training programs for sales roles.
The data isn't a perfect view into the overall job market, because it's skewed towards employers who have indicated a preference for hiring veterans. That includes large employers like JP Morgan Chase, Dell, Sears, and Starbucks, and also thousands of smaller companies.
But with over 800,000 job listings in the data, the map is a meaningful view into which jobs are in high demand around the country.