This Ridiculous New Gun Accessory Literally Has Obama's Name On It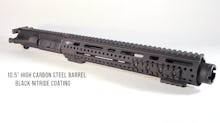 Are you the kind of right-wing gun nut who wishes you had a gun with President Barack Obama's name on it? Say hello to Ares Armor's new gun accessory, the "Obama's Blaster." which they announced with the tagline "'Yes, we can' build a firearm product." It's a 10.5-inch 4142 high carbon steel replacement barrel that costs $550 and mocks the president.
Watch the promo video and description from the company's online store:
We would like to thank President Barack Obama for being the distinguished firearms industry spokesman and salesmen of all time. We are now producing what we believe he would really want in an "Blaster."
The company helpfully added that "The entire write up is a very clear case of Parody [sic] for the purpose of symbolic speech," in case anyone confuses it with an actual endorsement by Obama.
While the product isn't quite the veiled threat to Obama's life, although AddictingInfo implies it to be, it's definitely at least a jab at a president who has repeatedly struggled to build support for gun control initiatives. Other products on the Ares website also carry political overtones, like this "muzzle concussion redirection device" called Obama's Flash Can, but the Blaster is the only device to reference the president in its description or marketing so far.
Ares Armor might have a personal reason to be a little bitter at this particular president, seeing as the ATF launched heavily armed raids on their manufacturing facilities earlier this year to much crying and teeth gnashing in the pro-gun community. The ATF insisted that polymer receivers manufactured by the company that require customers to finish machining them are unlicensed firearms.
It's more likely the Blaster is just a cheap joke and a flash-in-the-pan marketing trick, but Ares almost certainly knows the Secret Service is notoriously immune to humor. That's not a problem for a gun industry that thrives on anti-government paranoia, and markets firearms as lifestyle products symbolizing rugged opposition to big government. The more guns are in the news, the faster they sell — and Ares probably won't apologize if one of their Obama-themed barrels is used to hurt or murder someone.