You're Probably More Generous Than the Four Richest Walmart Heirs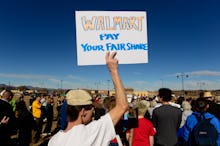 A widely accepted part of being super-rich in America is that you donate a ton of money to charitable causes to highlight your remarkable sense of ethics and social responsibility (or to compensate for your more illicit habits). It's a strategy that most billionaires hold dear — except, it seems, for Walmart's founding family.
A new report from Making Change at Walmart, a group backed by the United Food & Commercial Workers union, says that the four Walmart heirs in the top 10 of Forbes' richest Americans list donate barely any of their fortune to charity.
The data, the group says, comes from publicly available documents from individuals' charitable foundations as well as data available from the Chronicle of Philanthropy.
Take a look:
Image Credit: Making Change at Walmart
According to the group's analysis, the Waltons lag far behind well-known benefactors Bill Gates and Warren Buffett, as well as the conservative Koch brothers. (And the Koch's signature political giving doesn't even count here; check the David H. Koch Theater, which hosts the New York City Ballet thanks to a $100 million gift from its namesake.)
As Mother Jones points out, the Waltons' rate of giving doesn't even stand up to that of the typical American family. The average American household has a net worth of $650,000 and donates about $3,000 to charity a year. That's about 0.46% of net worth, making a typical family about 230 times as generous as the four richest Waltons, according to these numbers.
Labor complaints: The reason union activists harp on the Walmart heirs' charitable giving is the less-than-ideal conditions the corporate giants' workers face on a daily basis.
Walmart workers went on strike in more than 20 cities earlier this year, demanding higher wages and an end to retaliation against workers who speak up. Almost half of Walmart employees earned less than $25,000 a year in 2012, according to the Huffington Post.
Making Change at Walmart obviously has a bone to pick here, and it's not like that more charity from the Waltons is going to make working conditions any better. But it does provide easy ammo for activists who want to paint the behemoth and its owners as greedy and detached.
h/t Mother Jones