Obamacare Hits Another Major Milestone, and Proves All the Critics Wrong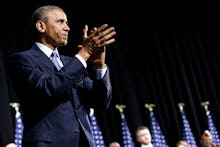 Obamacare just blew past another critical marker of success. According to numbers released by the Centers for Medicare & Medicaid Services on Thursday, 7.3 million Americans have not only registered for health care plans but are now actually paying for them.
The 7.3 million figure, obtained on Aug. 15, shows that predictions from the right that Obamacare enrollment numbers were inflated by people who had signed up but would never actually pay for the plans just haven't materialized. If anything, the opposite seems to be true — people are rapidly signing up for health care plans under the Affordable Care Act, and they're eager to make use of their new coverage.
The total number may actually be 115,000 lower, as the 7.3 million figure includes people whose immigration or citizenship data doesn't match up with government records. But officials are pretty confident that the 7.3 million number is both broadly accurate and a major sign of the program's success.
"We are encouraged by the number of consumers who paid their premiums and continue to enroll in the marketplace coverage every day through special enrollment periods," CMS Administrator Marilyn Tavenner informed the House Oversight Committee, adding that 7.3 million was a "really strong number."
The tax penalties associated with being uninsured can be expensive ($95 or 1% of family income in 2014, and more than doubling by 2016), but they're still far cheaper than paying for coverage. Given the choice between a fine and access to affordable health care, it's becoming very clear that there's no question people prefer the latter. Now that it's providing coverage to nearly 10 million Americans, the ACA is here to stay. Another open enrollment period will begin in November, when millions more will enroll and swell their ranks further.
Women are also benefiting from Obamacare. A new report by the Guttmacher Institute found that the number of women paying nothing out of pocket for birth control pills has increased from 15% in the fall of 2012 to — wait for it — an astonishing 67%, and other forms of birth control have become dramatically cheaper for women as well.
Smear Obamacare as unconstitutional tyranny all you want, but its many beneficiaries are probably going to disagree with you. Polls find that up to 70% of all enrollees are satisfied with their new plans, even though a lot of voters seem kind of confused about what the Affordable Care Act actually does. As more and more people sign up and the bad memory of last year's rollout fades away, there's a good shot that a few years from now President Obama's signature achievement will be widely counted alongside Medicare and Medicaid as a critical part of the American health care system.