This New Commercial Perfectly Demonstrates Derek Jeter's Legacy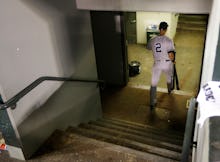 Say what you will about the Yankees and Derek Jeter, the venerable New York shortstop who is set to retire after this season. Complain about the limitless payroll, the breathless hype and the seemingly endless farewell tour derided by the New York Post as an "ego-driven circus." You can even be quick to point out Jeter's declining defense as shortstop and his well-chronicled slumps at the plate this year.
But there is something profound that even the most ardent Yankee-haters cannot deny: Jeter's impact on the modern game cannot and should not be understated. Gatorade, a longtime sponsor of the Yankee icon, perfectly summed up the Jeter legacy with a 90-second spot by TBWA\Chiat\Day in Los Angeles that absorbs even the most casual baseball fan. It's a fitting tribute for the sports drink's third-longest-tenured endorser after Michael Jordan and Mia Hamm.
Over the course of his 18-year major-league career, "The Captain" has become the franchise's all-time leader in hits, games played, extra-base hits, doubles and runs scored. It was appropriate that Jeter surpassed Lou Gehrig as the team's all-time leader in multiple hitting categories during the season that memorialized the 75th anniversary of Gehrig's farewell speech. How fitting for the torch to be passed from "The Iron Horse" to "The Captain" as the greatest Yankee to ever suit up in pinstripes.
So whether Jeter broke your heart with "the flip" (sorry, A's fans), the Jeffrey Maier home run (we feel you, Baltimore) or too many times to count for Red Sox fans, Jeter's enduring legacy as not just a great player but as a great baseball icon remains beyond dispute.