This Kentucky Senate Candidate Has the Worst Campaign Slogan Ever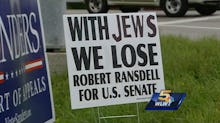 WLWT
Just because a slogan rhymes that doesn't make it clever — or keep it from being horribly offensive.
The University of Kentucky got more than it bargained for when it invited Senate write-in candidate Robert Ransdell to speak during Constitution Day festivities. Hopefully, they wouldn't have brought him in if they'd ever seen his roadside signs, which read, "With Jews We Lose."
Ransdell had his speech cut off, according to WKYT, when it veered into racist territory. The candidate, it should be noted, considers himself a white separatist.
"The University Of Kentucky was not aware of the content of his remarks prior to him speaking and does not condone or endorse any political platform or agenda," a school spokeswoman said in a statement following the speech. "Constitution Day is not about politics, it is a celebration of the principles of the Constitution. All speakers are asked to focus on those principles. Unfortunately, Mr. Ransdell included his political beliefs and platform in his comments."
In an interview with WKYT, Ransdell explained that he had made a pretty long trip to get there, so he deserved the chance to let loose and be racist. "I intended after traveling — I'm up here near Cincinnati — after traveling that far to be forthright about something I believe in," he told the station. "I was about to get to the Constitution before I was cut off. I was getting to it."
A high school student snapped a picture of the "With Jews We Lose" sign after the event. Ransdell's campaign has put up a few dozen in northern Kentucky, according to WLWT, where they've caused a stir among drivers and passersby.
Ransdell says he plans to put up about 200 more around the state. "Online we have had a lot of positive feedback," he told WLWT, something that sadly won't surprise anyone who's ventured into an online comment section. "We're going to find out what kind of feedback we get once we go out and take it to the people here in the state of Kentucky."
Doubtless, Ransdell will lose by an embarrassing margin to either Republican Senate Minority Leader Mitch McConnell or Democrat Alison Lundergan Grimes in November.