The Stodgiest Golf Club in the World Just Took an Awesome Stand for Women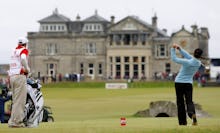 On the same day the United Kingdom's fate was decided, another landmark vote was cast in Scotland. This one decided whether the Royal and Ancient Golf Club — long regarded as the symbolic home of golf — would finally welcome female members. 
By an overwhelming 85% majority, members voted to throw out the sexist and antiquated ban on women in favor of a mixed club. It only took 260 years for the men-only club to stop being discriminatory. 
Effective immediately, some women will be "put on a fast track for membership to avoid having to spend time on the long waiting list," the New York Times reported. And while women have previously been able to play on the course, they have not been allowed to enter or dine in the clubhouse and "played no significant part in the sport's rulemaking arm," according to Reuters. 
More than 1,800 out of the 2,400 members cast their ballots in the historic vote. It is a giant step forward for the prestigious club, which is set to return to the international spotlight when it hosts the 2015 British Open in July. 
For good reason, people took to Twitter applauding the game-changing decision:
Exclusive, men-only clubs have been in the spotlight in years. The tony Augusta National Golf Club in Georgia, home of the Masters, made headlines by finally admitting two female members in 2012 after years of public pressure. One of those women was former secretary of state and avid golfer Condoleezza Rice. The other was banking magnate Darla Moore. 
With Augusta and now the Royal and Ancient Golf Club welcoming female members, other men-only clubs such as Muirfield and Royal St. George's will hopefully follow suit. Surely it's in their best interests: As Professional Golf Association of America President Ted Bishop pointed out, "Women represent the biggest growth market in the sport, and every step to make golf more inclusive is good for the game."
Possible candidates for membership to the club, according to The Independent, include former U.S. Golf Association President Judy Bell, St. Andrews University Principal and Vice Chancellor Louise Richardson and former golfers Carol Semple Thompson and Laura Davies.