12 New Voices Redefining What It Means to Sound American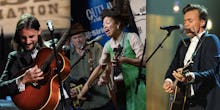 A few years ago, artists like the Avett Brothers, the Lumineers and Mumford & Sons ushered in something of an Americana Renaissance, bringing roots music — banjos and all — back to the forefront of popular culture. Although Americana artists have been cranking out amazing music for years, that resurgence helped put a bigger spotlight on a deserving community full of some of our best songwriters, vocalists and musicians. An already broad genre (Americana spans everything from roots to bluegrass to blues), Americana gives voice to all corners of America, making it one of the most vital art forms we have today.
This week in Nashville, Tenn., the Americana community convened for a five-day festival complete with panels, performances and the annual Americana Music Awards. Here are 12 of the best new acts to come out of this year's festival.
1. Robert Ellis
Alt-country singer/songwriter Robert Ellis writes the kind of songs that are so good it physically hurts — in the best way possible — to listen to them. His latest release, The Lights from the Chemical Plant, is one of the best albums to come out this year and should solidify him as a major voice of both country and Americana for years to come.
2. J.P. Harris and the Tough Choices
Punk rock honky-tonk isn't a descriptor you often encounter, but J.P. Harris and the Tough Choices make you wish it had been around for a lot longer. The Nashville band is making the kind of country music you won't hear on the radio, showcased instead in all its raw, rowdy glory on the band's forthcoming Sept. 23 release, Home Is Where the Hurt Is.
3. Humming House
Nashville's Humming House has been making party-worthy roots music for a few years now, a fact they recently solidified with Humming House Party!, a live album worthy of your next celebration. In addition to writing stellar original tunes, the band is known for covering some unorthodox songs, including Michael Jackson's "Billie Jean" and Justin Timberlake's "My Love."
4. Valerie June
Memphis, Tenn., has a long history with blues music, and singer/songwriter/multi-instrumentalist Valerie June is making sure her hometown's tradition stays alive and well. June has made a lot of famous fans over the years, including the Black Keys' Dan Auerbach, who co-wrote "Tennessee Time."
5. Lake Street Dive
Like most Americana music, Lake Street Dive defies any true genre distinction. Drawing from indie, soul, folk and jazz, the Boston-born quartet has made a name for itself with creative songwriting, energetic live shows and, of course, lead singer Rachael Price's powerhouse of a voice.
6. Lera Lynn
Lera Lynn takes the conventional trappings of folk music — acoustic instrumentation, confessional lyrics, pretty harmonies — and adds her own twists, including unusual arrangements and unexpected influences including Roy Orbison to Van Halen.
7. The Milk Carton Kids
With intricate guitar work and vocal harmonies reminiscent of Simon & Garfunkel, the Milk Carton Kids are making some of the most gorgeous acoustic music out there. The California duo has made serious waves throughout the Americana community, winning this year's AMA honor for Best Group/Duo.
8. Parker Millsap
Parker Millsap looks like a cross between a young Leonardo DiCaprio and a young Jerry Lee Lewis, although his music much more closely resembles that of the latter. The Oklahoma-bred, Pentecostal-raised singer/songwriter turns his sharp, empathetic eye to everything from truck-stop evangelists to old flames in gripping, often entertaining songs on his debut, self-titled album. 
9. John Moreland
John Moreland's "Gospel," which was featured on an episode of Sons of Anarchy in 2013, is easily one of the best songs to come out in the last few years, Americana or otherwise. The rest of his catalog doesn't disappoint, either, with thoughtfully written lyrics delivered in Moreland's deep, raspy growl.
10. Caroline Rose
Caroline Rose gave up a lot to pursue music, including a career in architecture. And it's a good thing she did, because her confessional, irreverent lyrics and collage of musical influences make for a listening experience unlike much else out there. 
11. The Devil Makes Three
The Devil Makes Three, up for the Emerging Artist award at this year's AMAs, isn't from the South, but the California trio makes dark, bluesy folk with a decidedly Southern Gothic bent. Produced by the legendary Buddy Miller, their 2013 album I'm a Stranger Here, with its dead bodies and hallelujahs, would be just as at home on Faulkner's turntable as it will be yours.
12. Steelism
Drawing from country, surf rock, soul and everything in between, Nashville duo Steelism is making instrumental music unlike anything you've ever heard. The band's latest album, 615 to FAME, was engineered by Alabama Shakes keyboardist Ben Tanner, and has earned them attention from the likes of NPR and Billboard.