Terrifying Video Shows What It's Like When Your Plane Experiences Engine Failure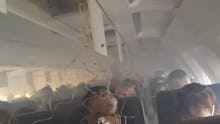 While there have been several high-profile aviation incidents this year, the fact remains that the probability of these events remains very, very low. For almost all airline passengers, running into serious trouble in flight is unlikely — which is why it's pretty terrifying when you do.
A JetBlue aircraft taking off to Austin, Texas, made an emergency landing Thursday morning at Long Beach Airport in Long Beach, Calif., after an engine began overheating shortly after take-off. While the plane's 147 passengers and crew landed without serious injuries, they still had a scary moment when the cabin filled with smoke and their oxygen masks failed to drop.
Throughout the ordeal, passengers aboard the flight tweeted and posted videos, providing an intimate, first-person account of the goings-on. One of the passengers happened to be Twilight actor Jackson Rathbone:
Rathbone also took a video selfie during the plane's descent:
"There's a form for everything," quipped Rathbone. "Even when the engine goes out on your plane a thousand feet in the air."