Watch the Boy Band Video That's Getting Americans Obsessed With K-Pop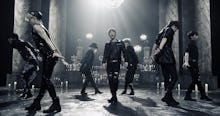 This month, a band called INFINITE made history for K-pop — it scored a hit, and it did it while singing in Korean on the strength of their song and amazing dancing.
The boy band became the first Korean musicians to top the Billboard Twitter Emerging Artists chart, thanks to a video of them practicing the dance for their catchy single, "Last Romeo." After the video of their amazing dancing went live, the song skyrocketed to the No. 1 spot on the chart, the single also ranked 33rd on the Billboard Twitter Top Tracks. Both of these rankings signal a huge shift in American audiences — a willingness to finally acknowledge that K-pop is the amazing genre our country needs to diversify its tastes.
This almost never happens for foreign acts. PSY's "Gangnam Style" came closest to accomplishing the feat, but that song was successful largely due to its novelty value and PSY's cartoonish play on Asian stereotypes. Though many American musical acts and songs dominate musical markets around the globe even though they're performed in English, foreign acts rarely have the same effect in America. Domestically you will seldom hear any popular song in a language other than English — regardless of the band's nationality. Foreign bands either sing songs in English, such as Robyn, Phoenix and Daft Punk, or they play up their foreignness and become a cultural trope, like PSY. Let's face it: Few people listened to "Gagnam Style" for its melodic genius. It was to watch PSY dance under a twerking man in his music video.
The seven members of INFINITE, then, are accomplishing something few acts can. They refused to pander to American audiences and proved that undeniable musical ability is all it takes to score a hit. They actually released "Last Romeo" in May, but only after they published a video of their impressive dance practices online in early September did it start to grab attention in the U.S. Rather than make a high concept video, the group hearkens back the '90s style of NSYNC and Britney Spears synchronized dancing mixed with the new-school flare of R&B singer/dancers like Jason Derulo and Usher. They used their video to emphasize the music — not the other way around.
INFINITE's career in America is only just beginning, but it signals a bold new era for American audiences — one where our ears can open our minds.
Correction: Sept. 26, 2014