Students Drown Out Anti-Gay Preacher's Slurs With a Beautiful Song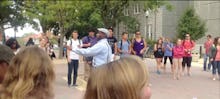 They say the best way to drown out hate is with love. On the campus of James Madison University this week, the students loved pretty hard.
On Tuesday and Wednesday, the Virginia college was visited by a controversial preacher named Ross Jackson, the founder of a traveling outreach group called Revival Mission Ministries. After setting up camp outside Carrier Library, Jackson engaged in an angry tirade about how the JMU students, especially gay students, are going to hell:
Because of Virginia's new free speech laws, people like Jackson are able to gather on public campuses without a permit, as long as they doesn't pose a physical threat. So instead of trying to get him removed, students tried to engage Jackson in conversation, calling him out on his remarks and questioning him on his fundamentalist beliefs. Several students showed up with rainbow flags and staged a peaceful protest to counter Jackson's presence.
And in a particularly moving display, the students drowned out Jackson's voice by singing a Christian song called "How He Loves," telling the gathered crowd that "Jesus loves you all":
The school's Christian students took a particularly hard stance against Jackson, using their biblical knowledge to challenge Jackson's beliefs. One student, Ashanti Wright, told the Breeze that she quoted from the Book of Romans when she spoke to the preacher: "You, therefore, have no excuse, you who pass judgment on someone else, for at whatever point you judge another, you are condemning yourself, because you who pass judgment do the same things."
Since then, Jackson was summoned by JMU police for assault and battery and has been given a no trespass notice, which means he'll be arrested if he returns to the JMU campus. But even if he does, it looks like JMU students are well-prepared to face him again.
(h/t: The Huffington Post)