Tim Burton's Next Film Looks So ... Normal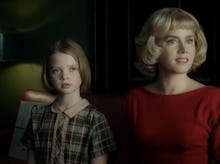 It doesn't have corpses, Gothic overtones or Beetlejuice (Beetlejuice Beetlejuice). But there are still hallmark Tim Burton moments in the trailer for his new film Big Eyes, which by Burton standards looks surprisingly normal
Big Eyes tells the true story of Walter and Margaret Keane, husband-and-wife artists who rose to fame in the 1950s and 1960s before going through a messy divorce predicated on Walter taking credit for Margaret's work. You can see the mysterious and understatedly chilling trailer, with Amy Adams and Christoph Waltz in the lead roles, below.
The plot: The couple decide to go into business selling Margaret's paintings, distinctive for their big eyes, with a catch — Walter will take credit for them, since (he says) people won't want to buy art made by a woman.
Things start to take off, and the couple become rich and successful and never encounter any more challenges in life. Just kidding! Margaret wants credit for her work, and Walter gets obsessed with his newfound fame. Everything unravels.
The real story ends with an in-court paint-off, which would probably be edited out of a script for being too unrealistic if it weren't true. There's no telling how much Burton's film deviates from real life events until it's out, of course, but barring a huge twist, it does seem there won't be any stop-motion monsters involved.
A different direction: Burton's signature macabre aesthetic is so well-known, it even sparked a 2009-2010 exhibit at the Museum of Modern Art.
Big Eyes isn't totally unfamiliar ground for the director, though. Ed Wood, his 1994 biopic about the eponymous cult film director, was a big hit with critics and won two Oscars (for best supporting actor and best makeup). There is also a slight Hitchockian flair to the trailer, a touch not too far off from Burton's origins. 
Plus, trailers are often manufactured to appeal to the widest possible audience, meaning there could be some deeper trademark Burton weirdness in there we have yet to see. 
Big Eyes is scheduled for release on Dec. 25.