One Woman Went Undercover to Expose the Lie of 'Crisis Pregnancy Centers'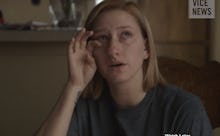 Women's reproductive rights are under seige. Hundreds of pieces of legislation dealing with access to health care for women have been debated by lawmakers across the country, with numerous abortion clinics being shuttered in the process. Half of Texas' clinics closed last year; six of Ohio's 14 have closed, and Missouri, which has only one clinic, just passed a prohibitive 72-hour waiting period law last week.
One of the weapons in the anti-abortion movement's arsenal is the creation and promotion of so-called "crisis pregnancy centers" (CPCs), which operate under the guise of supportive abortion clinics but which work to persuade women, sometimes violently so, to not terminate their pregnancies. Vice News went undercover to report on this phenomenon, revealing the emotional toll these centers take on their unsuspecting victims in a new documentary "Misconception."
Vice's Fazeelat Aslam, pro-abortion rights activist Katie Stack and a woman from Texas named Donna are all secretly filmed chronicling their many visits to CPCs. One "counselor" after another peddles the same lies: "[Abortion] could never be safe, because it's so totally unnatural"; "Your body is meant to keep that baby, not to have someone put an instrument in and rip it out"; "If people die due to an abortion, later on a lot of times they're finding parts of the fetus in like the lungs or the heart."
The objective is to lure these women into the clinic in order to teach them the "truth" about abortion. In a particularly emotional segment, Donna agrees to go undercover for the documentary, visiting a clinic called the White Rose Women's Center in Dallas. Donna had experienced the bait-and-switch of the centers earlier, when she went to White Rose looking for information about abortions, only to be forced to listen to a lecture about morality and God during her sonogram. "I was on a table, like, vulnerable, with a sonogram machine on my stomach, like I couldn't get up," Donna said. "It's an awful feeling... I feel like I was lied to, I feel like I was tricked."
Donna eventually gets revenge of sorts in the video, when she returns to the center and confronts the people who misled her earlier.
Image Credit: YouTube
Ultimately, the Vice video reveals that when it comes to these centers, their deception is purposeful and far-reaching.
"The best client you ever get is the one that thinks they're walking into an abortion clinic, the ones that think you provide abortions," anti-abortion activist Lila Rose tells Aslam in the video. CPC websites deceive women into thinking that they offer abortion services, as Slate's Amanda Marcotte notes, offering sections on "pregnancy and abortion," as well as detailing the "types of abortions" available, in addition to information about "abortion recovery." 
Infuriatingly, while funds for abortion clinics are cut as clinics are also forcibly closed across the country, many CPCs receive government funding through federal grants or state programs. As access to true reproductive health resources shrinks, women in need of medical treatment for an abortion may be trapped when the only place they can seek treatment is at a CPC. Vice estimates that in 2014 CPCs outnumber abortion clinics 5 to 1.
Image Credit: YouTube
But the federal government is also complicit in the duplicitous acts of these CPCs by providing them with funding. The government is, in effect, jeopardizing the lives of women, not only by stripping them of safe and supportive health care clinics, but by substituting these clinics with physically and emotionally harmful replacements which lie to women about the services they provide, in addition to spreading falsehoods about abortion.
With crisis centers outnumbering abortion providers in such vast numbers, the pro-life movement may be growing closer to accomplishing their ultimate goal: ending abortion in America. As New York Congresswoman Carolyn Maloney, a longtime opponent of these deceptive practices, tells Aslam near the film's finale, "There is no right to choose if there isn't access to choose."