It's Time to Dispel the Biggest Myth About 'Black Movies' Once and For All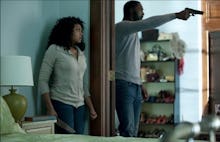 No Good Deed topped the box office earlier this month, earning $24.5 million its opening weekend. The thriller, starring Taraji P. Henson and Idris Elba, was expected to open in the mid teens, and it far exceeded those expectations. Yet No Good Deed's success is merely the latest in a year filled with black-led films that "overperformed" at the box office. It's time Hollywood ditch the low expectations and realize that black movies are indeed quite bankable.
While individual black actors have proven their box office appeal (think Denzel Washington and Will Smith), too many black actors on screen are accompanied by the fear that their film will fail to appeal to a "broader" audience. If 2014's track record proves anything, it's that audiences have an appetite for black-led films.
If we define a "black movie" simply as any movie where at least two of the lead characters are black, then some of the films that were (surprise) box office hits this year include: Ride Along, which earned $134 million domestically; Think Like a Man Too, which opened at No. 1 this summer; and About Last Night, a remake of the 1986 romantic comedy originally starring an all-white cast, which pulled in an impressive $25.6 million on opening weekend. The most unexpected success story was The Best Man Holiday, which opened at $30 million in December 2013. As NPR asked, "Why on earth would a $30 million opening for an ensemble romantic comedy with a largely African-American cast that includes some very well-liked, telegenic actors be beyond fantasy?"
Image Credit: AP
The latest hit, No Good Deed (written by a woman, directed by a Brit and produced by a black man) is a story of terror, loneliness and survival. To the critic who panned the film for failing to explore the "subtext about the divide in the black community," I urge him to consider the fact that Elba's character was originally written with a white actor in mind.
Black films are not necessarily made in a vacuum, only to be understood by those who consider themselves part of the black experience. The only way Hollywood's bigwigs will funnel more funding and marketing dollars into black-led films is if we remove the stigma that more black faces means a movie becomes too niche. 
Having a more diverse leadership team behind the scenes seems to be more conducive to seeing more black faces on screen. A 2013 study from USC's Annenberg School for Communication & Journalism found that 53% of the speaking characters on screen are black when the film is led by a black director, versus just 9% of black speaking characters when helmed by a nonblack director.  
Still some heavy questions remain. Like, why does a film with two black leads have to assume some lengthy narrative about the black condition? Or, why can't a thriller starring two of today's most beautiful and talented actors simply be fun, suspenseful popcorn fare? If we can destigmatize films with a strong black cast as being too insular to appeal to white audiences, then perhaps Hollywood will provide more funding (and more marketing dollars) to ensure the success of black films. They're already succeeding without much help.