Wisconsin Fraternity Allegedly Used Color-Coded System to Roofie Women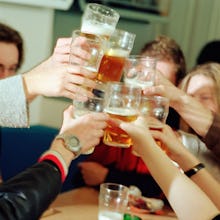 A Wisconsin fraternity is under investigation by law enforcement after members allegedly used a color-coded system to slip date-rape drugs into the drinks of unsuspecting women, the Milwaukee Journal Sentinel reports. 
Officers were called to Sandburg Residence Hall about midnight Friday after a young woman was so drunk she could hardly stand.A breath test showed her blood-alcohol level at 0.20 — more than twice the limit of 0.08 considered proof of intoxication in Wisconsin — and she was taken to Columbia St. Mary's Hospital. Officers noticed she had a red X on her hand.Fifteen minutes later, officers were called to assist another severely intoxicated woman at the dorm. She, too, had a red X on her hand and was unable to speak clearly or walk.
The female students were allegedly marked with a red X and male students with a black X. As it turns out, the male student who ended up in the hospital drank from the wrong cup:
As officers helped that woman, a man vomited in a nearby trash can. The man, who had a black X on his hand, told police that he had been drinking at the Tau Kappa Epsilon house. He had a female friend with him — who like the other women had a red X on her hand — and she said to get into the fraternity house they had to know someone inside. When they arrived at the party, they received a black or red X on their hand.
Students told police that members of the fraternity were preparing drinks out of sight — a no-no for any college student — and that some drinks appeared "cloudy." 
One student was arrested and referred to the district attorney's office for possible charges. Tau Kappa Epsilon was also investigated in 2013 for three sexual-assault reports, although no charges were filed. 
h/t Gawker
Editors Note: Mar. 3, 2015 
An earlier version of this article failed to cite a passage from Salon in accordance with Mic editorial standards. The article has been updated to properly attribute the language to Salon.