A Female Space Monster Named Vulvatron Is Taking Over A Legendary Heavy Metal Band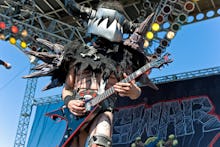 Women have always had a powerful place in metal, but their contributions are frequently overlooked. Female musicians in the genre are often turned into pin-up girls in listicles like "The Hottest Chicks in Hard Rock." Now, all that is about to change.
Earlier this year A dark pall fell over the metal community earlier this year when legendary shock metal band GWAR's lead singer, Dave Brockie, died from a heroin overdose. He was a huge supporter of the music scene and a legendary performer, and his band was rightfully one of the biggest names in metal. But before he died, he made a wish to ensure his legacy: If he died, his band should find a new singer.
This week, we learned that they'd found someone. GWAR's new vocalist is a woman. More specifically, she's a powerful, spike-fisted, dominatrix-looking female space monster named Vulvatron who is here to revolutionize an entire genre.
Played by Kim Dylla, an accomplished heavy metal clothing designer, artist and musician, Vulvatron made her debut last weekend at Riot Fest in Chicago. She held the audience's attention with a vice-like assertiveness, only taking a few short breaks from singing to douse the audience in blood shot from her large prosthetic breasts. 
GWAR fans should recognize this blood spew as a nod to previous leading female member, Slymenstra Hymen, who left the band in 2000. Vulvatron, though, has a much more front-and-center role than Slymenstra — or any of the other GWAR woman — ever had. She's not a dancer, or a groupie or one more sexualized supporting role. She's a vital, empowering figure who may work wonders in opening up a genre that has historically played to and been consumed almost entirely by white men. This is huge for the genre — she's about to prove that women can do something a whole genre always assumed only men could.
All hail Vulvatron.