These Ravens Fans Are Waiting In Line For Hours to Trade In Their Ray Rice Jerseys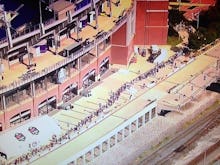 It looks like some Baltimore Ravens fans can't wait to be rid of any association with Ray Rice.
The Ravens released the running back after video surfaced of Rice knocking out his then-fiancée with a punch in an Atlantic City casino elevator. The NFL had previously suspended Rice for two games for the February incident.
Much like the Patriots did with Aaron Hernandez jerseys, the Ravens are offering fans the chance to trade in their Rice jerseys Friday and Saturday at M&T Bank Stadium. The response was huge, with several thousand people in line. The iPhone comparisons write themselves.
"What he did wasn't right," the first person in line, Zachary Blankenship, told the Baltimore Sun. "And I don't want to wear a jersey of someone who did something like that." He arrived at 4 a.m. The next fan showed up at 6. Blankenship bought a Rice jersey for $100 three years ago and was exchanging it for one of Justin Tucker. What Ray Rice did is so bad people would rather wear a kicker's jersey!
Of course, not every jersey is real. "So many people in line have fake jerseys they're trying to trade in lol," a user Michelle with the handle @StrGazer79 tweeted. She later tweeted a photo of the rules for the jersey exchange.
An NFL representative was on-site to determine the authenticity of jerseys, which must be made by Nike or Reebok. Imagine the surprise of people who got nice jerseys as gifts learning their Christmas present from their favorite uncle was purchased off the back of a truck.
The jersey trade-in continues Saturday morning from 8 a.m. to 3 p.m. Are the Ravens going to donate the jerseys to people in an impoverished country, burn them in a giant pile, or what?