The 20 Best 'Gilmore Girls' Episodes To Watch When They Arrive On Netflix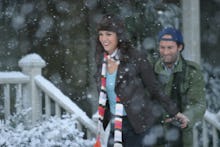 On Oct. 1, the Netflix gods will bless us with all seven seasons of the greatest mother-daughter show of all time, Gilmore Girls. Settling in for seven years worth of Stars Hollow shenanigans sounds divine, but if you don't have the time (or the patience) to plow through all 154 episodes, we've narrowed it down to the 20 greatest. So get ready to curl up with a giant cup of coffee in your favorite Luke's Diner mug and remember that where the Gilmores go, you will follow.
1. "Rory's Dance" (Season 1, Episode 9)
Early in the series and it's Rory's big school dance. When she and Dean (rather innocently) fall asleep after the dance and Rory doesn't come home 'til morning there is hell to pay. The result is a gigantic blow-out between both Lorelai and Rory and Emily and Rory, one of the series first fight's of epic proportions. 
2. "Christopher Returns" (Season 1, Episode 15)
For the first time in series history, we meet Christopher, Rory's father and Lorelai's high school flame. Naturally a Christopher visit results in a whole lot of family drama, including a sex scene and a proposal.
3. "Love, Daisies and Troubadours" (Season 1, Episode 21)
Best. Marriage proposal. Ever.
4. "Red Light on the Wedding Night" (Season 2, Episode 3)
Lorelai has a bachelorette party, and Luke delivers a chuppah he built for Lorelai and Max's wedding. Of course it's one of Luke and Lorelai's best scenes, worth watching the entire episode for. 
5. "The Road Trip to Harvard" (Season 2, Episode 4)
Gilmore Girls had really hit its stride by this point in season two. In this episode, Rory and Lorelai take an impromptu road trip to Rory's dream school, Harvard. On the way, they stay at a strange bed- and- breakfast, and of course, have their share of family dramatics.
6. "Presenting Lorelai Gilmore" (Season 2, Episode 6)
Rory comes out to society at a debutante ball, and her father Christopher makes a return, resulting in one of the cutest scenes in the entire series. Just try watching this clip without smiling.
7. "The Bracebridge Dinner" (Season 2, Episode 10)
Guests get stranded at the inn, a Björk snowman makes a cameo and it's the prime of the Dean-Jess-Rory love triangle. Thanks to the winter wonderland, Jess and Rory fans get a particularly delightful scene between the two of them on a sleigh, of all places.
8. "A-Tisket, A-Tasket" (Season 2, Episode 13)
The town picnic basket charity auction is one of the many annual Stars Hollow traditions we came to love. A picnic for charity sounds sweet until the town bad boy outbids Rory's boyfriend for her basket and, you know, her heart.
9. "I Can't Get Started" (Season 2, Episode 22)
Sookie and Jackson get married! Rory kisses Jess! Lorelai and Christopher ... spend a romantic night together? A game-changer of an episode if there ever was one.
10. "They Shoot Gilmores, Don't They?" (Season 3, Episode 7)
Widely regarded as the best Gilmore Girls episode, and one that usually stands out in people's minds when they reminisce about the show, "They Shoot Gilmores, Don't They?" has everything you could want, including the townsfolk participating in a 24-hour dance marathon and an epic breakup that will leave you as devastated as if you were in the relationship with Dean.
11. "Keg! Max!" (Season 3, Episode 19)
Usually the Gilmores just fight with their words, but this episode showed an all-out fight between Jess and Dean over Rory. It's the brawl we didn't even know we were waiting for.
12. "Those Are Strings, Pinocchio" (Season 3, Episode 22)
So much happens in this episode, from Rory graduating from Chilton to Lorelai and Sookie buying their own inn, but it's Rory's graduation speech that had fans trying to hold back the tears.
13. "The Festival of Living Art" (Season 4, Episode 7)
Another season, another wacky Stars Hollow tradition. "The Festival of Living Art" is not only a great episode, it also won Gilmore Girls its only Emmy (for best makeup).
14. "Ted Koppel's Big Night Out" (Season 4, Episode 9)
The Gilmores go tailgating in style at the Harvard-Yale football game, but when Richard reveals a secret, Emily questions their entire marriage. 
15. "Last Week Fights, This Week Tights" (Season 4, Episode 21)
Liz, sister of Lorelai's series-long will-they-or-won't-they love interest Luke, has a Renaissance-themed wedding, but it's the dance between Luke and Lorelai (set to Sam Phillips' "Reflecting Light") that had Gilmore fans squealing after four years of anticipation.
16. "Raincoats and Recipes" (Season 4, Episode 22)
Lots happens during Gilmore season finales, and "Raincoats and Recipes" is no exception. Not only do Luke and Lorelai finally kiss, but Rory also has sex for the first time with Dean ... who is now a married man. Nobody ever said the Gilmores weren't dramatic.
17. "A Messenger, Nothing More" (Season 5, Episode 2)
Paris tries speed dating. Need we say more?
18. "You Jump, I Jump, Jack" (Season 5, Episode 7)
Rory learns the secrets of Logan's Life and Death Brigade ... and she also jumps from seven stories up using an umbrella to float down, all in the name of journalism.
19. "A House Is Not a Home" (Season 5, Episode 22)
In the sordid years of the Logan romance, this is the episode that has Rory fully detaching herself from the girl we all knew and fully going toward the Logan side of life. When she decides to take a year off from Yale, someone pops the big question.
20. "Friday Night's Alright for Fighting" (Season 6, Episode 13)
Gilmore Girls was known for its epic family fights, but this episode is worth it for what might be the best family quarrel in the series' seven-year run. End on a high note.