Roger Goodell: I 'Got It Wrong' on Ray Rice and Domestic Violence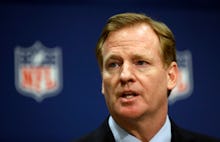 NFL commissioner Roger Goodell announced Friday that the NFL plans to "reexamine, enhance and improve" current programs to combat sexual assault and domestic violence in the league.
Goodell called on law enforcement, the criminal justice system, social services and families to help fight the problem of sexual assault and domestic violence in American society. Goodell says that the NFL has entered into a partnership with the National Domestic Violence Hotline and the National Sexual Violence Resource Center to "work together" to address these issue.
"We can use the NFL to help create change," he said. "Domestic violence and sexual assault have no place in the NFL."
Naturally, plenty of people are upset with Goodell's paltry announcement:
Editors Note: Mar. 3, 2015 
An earlier version of this article cited The Wire reporting, but did not include quotations around the cited passage. The story has been updated to fully attribute The Wire's language.