Georgia's Former President Is Now a Giant Brooklyn Hipster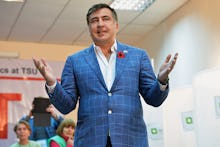 No, this is not the plot of a Wes Anderson movie.
Former Georgian president Mikheil Saakashvili, who was in office during the country's brief war with Russia in 2008, is now enjoying life in Williamsburg, Brooklyn, according to the New York Times.
Saakashvili, this Western-backed wartime-president-turned-Tufts-lecturer, now spends his days biking around New York City's most-maligned neighborhood in his neon green sneakers, complaining about rent and buying unreasonable artisan curios.
The highlights: The New York Times profile captures some surreal moments for the former world leader, from grilling on his roof deck with people like former CIA director David Petraeus and former French president Nicolas Sarkozy to purchasing 50 clocks made from hardcover books at a flea market (to be sent back to his presidential library, allegedly).
Like most people who flock to the bustling hipster mecca of Williamsburg, Saakashvili loves the neighborhood, calling it "part of the democratic transformation" with a "jazzy atmosphere." The rent may be a little high — "I'm not poor poor, but it really bites," he said — but he doesn't seem to share the same level of hipster hate as so many other people seem to: "They are hipsters, but they are still making tons of money, and they live a pleasant lifestyle and make it in life."
That doesn't make Saakashvili a local for life, though. He's apparently planning his political comeback, hoping his experience dealing with Russian leader Vladimir Putin is even more relevant following the unrest in Ukraine.
That might be tough: It's not all bar-hopping and fixie rides for the former president. Saakashvili has been battling allegations of impropriety, corruption and vote-fixing ever since he left office in 2013. His administration cracked down hard on dissent in 2007, sending 365 people to the hospital and shutting down two television stations after riot police met protesters with tear gas, rubber bullets and a water cannon. And in 2009, the New York Times reports that he allegedly used government funds to fly out a special masseuse from the United States.
More recently, Saakashvili was charged with other improper uses of public funds, allegedly paying for fine art, a yacht rental and travel for personal stylists and fashion models with taxpayer money. If he's found guilty in Georgia, he could be leaving Williamsburg sooner than he thinks: The charges carry a potential prison sentence of 11 years.