Yet Another Black Man Shot to Death by Police Under Strange Circumstances in America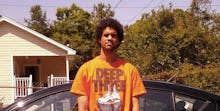 Community members in West Savannah, Ga., are up in arms after yet another officer-involved shooting of a young, unarmed black man.
According to officers, Smith was arrested for outstanding warrants, handcuffed and placed inside a patrol car before he managed to pull the cuffs to the front of his body, kick out the window of the vehicle and, police claim, draw a firearm. Police say Officer David Jannot, a 10-year veteran of the department, shot and killed Smith in self defense.
"That's injustice," his sister, Catherine Smith, told WTOC. "It's inhumane and it's a crime."
"We need answers. We demand answers," National Action Network Savannah Chapter President Aleisha Blakely told the Atlanta Journal-Constitution.
"This will be cleared up, this will be cleared up," she told WTOC. "We don't need anything to happen and we are going to keep the family and the community informed about everything that is going on."
While they wait for the facts, community members are right to be concerned: If unprovoked, Smith's death would be yet another instance of an unarmed black men being shot to death by police for totally unjustified reasons. Police across America routinely shoot and kill black people, with white officers killing black suspects approximately twice a week nationwide according to the most recent FBI statistics.