New York Is Taking a Big Step to Bring Undocumented Immigrants Out of the Shadows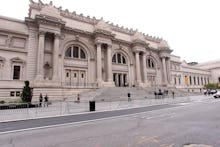 Steve Mack/Getty Images
New York City is providing free access and special discounts to some of the city's greatest cultural institutions, while taking a big step to bring the city's immigrants without permission out of the shadows.
Starting Jan. 1, 2015, any resident of the city of New York, regardless of their citizenship or immigration status, will be able to obtain a municipal photo I.D. card, which will grant access to many city services to their holders. Residents without documents will gain access to government services that were previously out of reach.
The city realized the potential for a municipal ID to become a stigma if its holders were limited to residents without documents, so Mayor Bill de Blasio's administration came up with an ingenious solution to attract a broader swath of the city population to sign up.
De Blasio partnered with 33 of the city's signature attractions to provide an entire year of free membership to every person enrolling in the program.
The passes cover virtually every one of New York's major cultural landmarks, from zoos, parks and botanical gardens to opera houses and art museums. Each one has real value — while not every institution is offering free admission, many of them make up for it by offering free rehearsals, exhibition invites or discounted tickets and merchandise.
"The Municipal ID Card embodies the values we cherish most about inclusivity and equality, and these memberships are another step forward on providing greater access and opportunity for our people," de Blasio said in a statement at the Bronx Zoo on Thursday.
Every borough is represented, and the list is expansive enough that it seems like a New Yorker could feasibly spend an entire year's worth of leisure time exploring it. 
Below are just a few of the biggest attractions covered by the ID program.
Metropolitan Museum of Art
MoMA PS1
American Museum of Natural History
This membership will cover an individual or a family of two adults and two children, granting free year-round admission to the 250-acre, 40-section gardens. While it doesn't look like the membership will cover access to special exhibitions, it's still a good deal compared to a usual adult rate of $13.
Brooklyn Academy of Music
Want to enjoy a night at the opera or a classic film? Municipal ID holders will get a choice of two memberships, to Friends of BAM or the BAM Cinema Club, either of which entitles members to big discounts on tickets, food or merchandise. Members also get advance access to fast-selling tickets. The BAM Cinema Club membership usually sells for $70, while joining Friends of BAM is worth $75.
Brooklyn Museum
New York's second-largest art museum boasts a collection of 1.5 million pieces, all of which you'll be able to see for free with the one year of unlimited admissions provided in the membership package. Members will also gain access to exhibition openings and special viewing hours, as well as enjoy 10% discounts at the museum's shop and restaurants. Not bad, considering an individual membership would normally run around $60.
Lincoln Center
You can pretty much see any kind of show at Lincoln Center, which sprawls over 16 acres and contains dozens of performing and viewing spaces. Membership comes with a bevy of perks, including access to presales, discounts, invites to rehearsals and early access to multiple festivals. This is a $100 value.
New York City Ballet
Municipal ID holders will get complimentary rehearsal tickets, as well as invitations to exclusive seminars, dress rehearsals and a members-only reception, a $90 value. The New York City Ballet was founded in 1948 and now boasts 90 or so dancers and 150 works, as well as a dazzling performance space.
Studio Museum of Harlem
Located on 125th Street, the Studio Museum of Harlem holds regular exhibitions of Harlem history and a permanent collection of more than 2,000 pieces of primarily African-American art. Members get unlimited admission for one, members-only hours, discounted program fees, and invitations to exhibition openings and special events. $50 approximate value.
Wildlife Conservation Society
Animal lovers will love this one. The one-year membership with the Wildlife Conservation Society grants ID holders free general admission for one adult to most of New York's zoos and aquariums, including the Bronx Zoo, the New York Aquarium, the Central Park Zoo, the Prospect Park Zoo and the Queens Zoo, as well as discounts for some merchandise and refreshments. For comparison, adult admission at the Bronx Zoo normally costs $30, so this is a great deal.
The full list is below, and you can check out the proposed free membership terms for each on the city's website.
Bronx 
Brooklyn 
Manhattan 
Queens 
Staten Island