Washington, D.C. Is About to Get A Lot More Friendly to Pot Smokers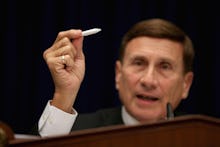 The nation's capital is all but guaranteed to be next in line for legal marijuana thanks to an unprecedented show of support.
A new poll from NBC4/Washington Post/Marist shows that most registered voters in Washington, D.C., seem ready and willing to approve Initiative 71, which would legalize small amounts of recreational weed. A historically high 65% of respondents said they were in favor of the initiative, compared with only 33% opposed, figures that hold steady for likely voters.
Adam Eidinger, chairman of the D.C. Cannabis Campaign, told the Huffington Post that it's "the highest support ever for a marijuana legalization ballot initiative."
The initiative: If it passes, the initiative would allow D.C. residents 21 or older to possess up to two ounces of marijuana for personal use and grow up to six cannabis plants. Sale of the drug would remain illegal, though there's a bill in the D.C. Council that would allow it to be sold (and taxed).
This isn't D.C.'s first step on weed. The District legalized medical marijuana in 2010 and took away jail time for small-time possession (it's currently a $25 fine).
The 2-to-1 level of support for the measure is thanks to a growing set of young, white and relatively affluent residents, as well as changing views among black residents, who make up about half of D.C.'s population, the Washington Post explains.
While marijuana usage is about even across races, black residents account for 90% of simple drug arrests. That's the kind of terrible statistic that can bring people around on legalization.
Going forward: Despite the support, D.C.'s relationship with the federal government makes things more complicated. Congress approves funding for much of the District and has used that as a weapon in the past to block certain policy changes.
For instance, Republicans in the House passed a budget measure earlier this year that banned D.C. from spending any money to loosen pot regulations. That didn't make it into the final bill, though, meaning the initiative can move forward as planned.
A full-scale legalization effort, complete with dispensaries like those seen in Washington and Colorado, could provoke the ire of national conservatives again. It's a fight D.C. is used to having, and its outcome might depend on how the other states with legalization measures — Oregon and Alaska for recreational, Florida for medical — end up voting.
h/t Huffington Post