High School Boys Thought This Photo Would Be a Hilarious Rape Joke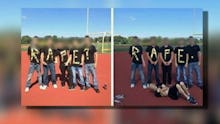 The news: Six Long Island high school students found the subject of rape so hilarious that they decided to put it on T-shirts. 
A group of seniors at Commack High School in Long Island, N.Y., thought it would be funny to make light of a terrible thing and posted their posed photos to Twitter, though they were removed before school started on Friday, reported NBC Philadelphia. Classmates told NBC that the boys were all in class on Friday, though they could face disciplinary or legal punishment for the stunt. A spokesperson for the school said that the boys "showed an inexcusable lack of judgment."
According to school officials, the photos were taken on the high school's varsity field right after seniors took their class photo. "They weren't intentionally trying to promote rape," a friend said. "They just thought it might be funny at the time."
Except that it's absolutely not. Though there was a fair amount of outrage directed toward the students, others thought the T-shirts were simply a joke and that the behavior could be chalked up to "being kids." One student said of his classmates, "Half think this shouldn't be happening,"
That's an issue, to say the least. This certainly isn't the most egregious example of rape culture, but it's an example nonetheless. There's nothing amusing about putting this kind of crime — which counts almost half of its victims as under 18 — on a T-shirt. 
Luckily, other students realized the disgusting nature of the "joke."
The sooner these boys realize that this sort of behavior is deeply harmful, the better, and that also goes for the classmates who think their peers shouldn't be punished. The only way they'll grow out of this offensive immaturity is to hear loud and clear that it's completely unacceptable.