The White House Was Evacuated After a Pretty Big Secret Service Slip-Up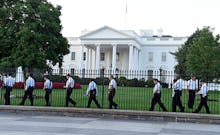 The White House had to be evacuated Friday night after a man jumped the fence, ran all the way across the lawn and actually made it inside the residence of the president of the United States, one of the most well-guarded houses in the world. 
The Obamas weren't present — they had left minutes earlier, per CNN — but Secret Service agents drew their guns and hastily got staffers and reporters out of the building. People standing outside the fence got a similar treatment.
Take a look at the run:
The intruder, 42-year-old Texas resident Omar Gonzalez, was arrested by agents after entering the building. "He appeared to responding officers to be unarmed, and that turned out to be true," a Secret Service spokesman told CNN. "He ignored officers' calls for him to stop and ran towards the White House." Gonzalez's motives are not yet clear. 
CNN adds that Gonzalez was "known" to the Secret Service, though they have not arrested him before and they have not said in what capacity he was being monitored. Here's an approximated route he took into the White House:
The reaction: It wasn't exactly an outcome that engenders faith in the Secret Service. Rep. Jason Chaffetz (R-Utah), chairman of the House subpanel on national security oversight, told the Associated Press that it was "totally unacceptable," according to Mashable.
"These are good men and women, but the Secret Service leadership has a lot of questions to answer," he said. "Unfortunately, they are failing to do their job... Was the door open?" The Secret Service promised a "thorough investigation" into the incident.
The agency had a similar, though nowhere near as embarrassing, situation last week when a man tried to jump the fence on Sept. 11. He was quickly apprehended.