The Favorite Food and Meal of Every U.S. State, According to Twitter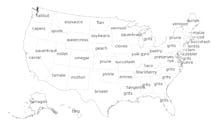 A favorite refrain of technology skeptics is Twitter, with its short, fleeting messages, a silly place where people go to "tweet about their lunch." As it turns out, Twitter can tell us a lot about what a society eats.
That's according to a fascinating analysis of food-related language on Twitter conducted by University of Arizona researchers, who researchers analyzed 3.5 million tweets with food-related hashtags — like "breakfast" and "soysauce" — pulled from Twitter's API between October 2013 and May 2014, in order to divine a digital picture of America's dietary habits.
"Our diets reflect our identities," the authors wrote. "The food we eat is influenced by our lifestyles, habits, upbringing, cultural and family heritage."
As the team identified distinctive food words for each state, patterns began to emerge:
Twitter, as it turns out, actually is a fascinating data source for computer scientists. "People are less sensitive about food," information scientist Mihai Surdeanu told the Verge. "They're more likely to tweet that they ate a big burger than they did not exercise."
The researchers uncovered regional differences in the popularity of certain meals by examining the #breakfast, #brunch, #lunch and #dinner hashtags.
The researchers also yielded some interesting insights based on hometowns: