Break Out Your Lederhosen, It's Time for Oktoberfest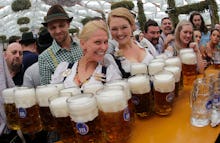 It's starting to look a lot like fFall. All the signs are here — cooler weather, leaves changing, copious amounts of lederhosen.
If that's not your idea of fall, you're probably not at Oktoberfest. Germany's most famous celebration kicked off Saturday with the ceremonial tapping of the first keg:
The 16-day festival will draw about 6 million people to Munich, where they'll eat, drink and be merry. (Ridiculous clothes seem to help.)
It's not just Germany, either. The celebration extends to Oklahoma City, where beer comes in boots:
Cincinnati, where the celebrating can't begin without a bunch of racing weiner dogs:
Las Vegas, where Siegfried and Roy get involved because Las Vegas:
The celebration transcends food and drink, even spreading to the realm of sports — human and dachshund. Football club 1860 Munich broke out Oktoberfest uniforms featuring a distinct lederhosen theme.
Taking part? Remember to pace yourself. There are two more weeks of this, after all.