A 'Daily Show' Prank Leads to an Awkward Redskin Fan Showdown With Native Americans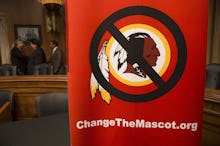 SAUL LOEB/Getty Images
The news: Earlier this month, the Daily Show invited a group of Washington Redskins fans for a yet-unaired segment where they'd have the opportunity to defend the team's now-toxic name. At this point, the Daily Show is so well known that anyone agreeing to be interviewed for a segment knows they're probably in for a bit of a twist, but what happened next was too much for some to handle. 
According to the Washington Post:
The Redskins Nation citizens eagerly signed up, most of them knowing that they might be mocked in their interview with correspondent Jason Jones. But several hours into the Sept. 13 taping of the yet-to-air episode, the fans, all from Virginia, said they were suddenly confronted by a larger group of Native American activists — all of whom were in on the showdown prearranged by "The Daily Show."
According to the report, the four fans expected something to be up, but were totally bowled over by the "prank." The Post continues, as described by one of the fans at the taping, Kelli O'Dell, 56, a former teacher who "doesn't watch the show regularly."
As Jones wrapped up his interview with the Redskins fans, he made an unexpected transition, according to O'Dell. "Jason says something like, 'Well, don't you think it would be great if you could just have a conversation?'" she recalled. "He turns around, and Native American people came in, just glaring at us."
According to the Post, this turn made the situation so incredibly tense that O'Dell left the set (a rented space in a Virginia hotel) crying and called the police, concerned for her safety. 
"This goes way beyond mocking. Poking fun is one thing, but that's not what happened," O'Dell told the Post. "It was disingenuous. The Native Americans accused me of things that were so wrong. I felt in danger. I didn't consent to that. I am going to be defamed."
O'Dell reportedly asked the show's producers not to include her in the segment, but it's yet unclear whether this request will be honored.
Thomas Ryan Red Corn, one of the Native Americans who participated in the segment and a member of a Native American comedy group the 1491s, tweeted last week, "We had a blast shooting with the daily show Jason Jones is a master of his craft. We will keep you in..." and included this awesome Instagram. 
Tricky, but smart: Though Jones' tactics might seem deceitful, at this point in the show's history, it's hard to possibly imagine that any interview on the show will be straightforward. 
But more importantly, though these fans felt attacked, they are supporters of a racist team name and mascot, and they should be ready and willing to defend their views to the very people their racism hurts. It's one thing to try to ignore the racism in the comfort of your own home watching your team play once a week, but it's an entirely different, and more real, situation when you're actually being confronted by the very people you continuously attack with your ignorant and hateful words. This team name debate has been around for long enough that those who still support this name should have given their views some very serious thought. You can keep telling yourself you're just "honoring Native Americans," but the truth of the matter is that you're not, and it shouldn't take a group of Native Americas staring you in the face to realize that.