Andy Dalton Just Made History in a Most Unexpected Way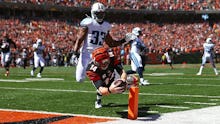 When Cincinnati Bengals quarterback Andy Dalton was signed to a six-year, $115 million deal before the start of the season, the Internet focused more on his red hair than his on-field performance.
Against the Titans on Sunday, however, Dalton's play took center stage.
The fourth-year signal-caller pulled off a brilliant trick play with an assist from teammate Mohamed Sanu, turning into a receiver and flying into the end zone for a touchdown near the end of the first quarter.
When Sanu, a wide receiver, nearly had the ball taken from him, Dalton broke away from the tackle towards the right and Sanu found him for the touchdown. The Titans were left with just one defender in position to make a play, but the 26-year-old Dalton ran a direct flat route, made a tricky catch in traffic and slid to the end zone for the touchdown. 
Dalton's score marked the first touchdown catch by a Bengals quarterback in franchise history.
Dalton now has one more thing in common with New England's Tom Brady, the three-time Super Bowl champion who made his first and only reception back in 2001.
To say nothing of Brett Favre, the longtime Packers quarterback whose first career reception was to... Brett Favre.
At least there are no jokes about redheads making touchdown passes. Yet.