Eerie Photos Capture Sierra Leone's Desperate Attempt to Stop the Spread of Ebola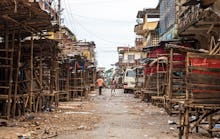 Sierra Leone's 6 million residents have been confined to their homes over the last three days as part of a nationwide lockdown aimed at stopping the spread of Ebola across the country.
"There is a very strong possibility it will be extended," Stephen Gaojia, head of the Sierra Leone's Emergency Operations Centre told Reuters after meeting with President Ernest Bai Koroma. "Even though the exercise has been a huge success so far, it has not been concluded in some metropolitan cities like Freetown and Kenema."
Reuters reports that 92 bodies had been recovered so far, and some 123 people had contacted authorities over concerns they may be infected with Ebola. According to Reuters, "Ebola has infected at least 5,357 people in West Africa this year, mainly in Sierra Leone, Guinea and Liberia, killing 2,630 of those, according to the World Health Organization."
With the lockdown in place, Sierra Leone has become something of a ghost town, with anxious residents complaining of food shortages. Below, see some eerie photos from the country's unprecedented effort to combat the spread of Ebola:
Editors Note: Mar. 3, 2015 
An earlier version of this article cited Reuters reporting, but did not include quotations around the cited passage. The story has been updated to fully attribute the Reuters' language.