India Just Marked a Major LGBT Milestone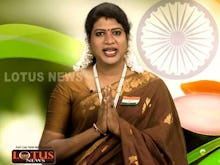 Padmini Prakash is making history. 
According to the Independent, Nepal, Pakistan and Bangladesh have also legally recognized the transgender community, and the Gender Recognition Act 2004 granted full legal recognition to transgender people in the U.K. and the British system.
Here's an Aug. 15 Lotus News broadcast of Prakash in action:
"Even in death we are pushed to the margins of society," she told the AFP.
"I've been told that, for mainstream television, I'm the only broadcast journalist that is known to be transgender," she said in an interview on SiriusXM OutQ in 2012. "I transitioned, in the way that your radio listeners will understand, almost a decade ago. I became a married, suburban housewife and mom and never really intended to step in the spotlight. If I had known that nobody else was identified as transgender as a news journalist on television, I probably wouldn't have done it. I probably would have been too afraid."
Editors Note: Mar. 3, 2015 
An earlier version of this article failed to cite a passage from Time in accordance with Mic editorial standards. The article has been updated to properly attribute the language to Time.