Detroit Player Injures Himself with Celebratory Hip Thrust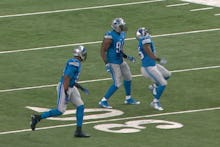 Not all NFL celebrations and sack dances result in penalties, but if you're unlucky enough, yours could result in an injury.
That's what the Lions' Stephen Tulloch learned Sunday against the Green Bay Packers.
As Tulloch was celebrating a solid defensive play against Packers quarterback Aaron Rodgers, the ninth-year linebacker landed oddly on his left leg and immediately crumbled to the turf.
Though Tulloch got up and walked off the field without assistance, he later received treatment on his leg on the Detroit sideline. This injury sidelined him for the rest of the game, which the Lions won 17-9.
Of course, any celebrations resulting in injuries can't happen without remembering former Arizona Cardinals kicker Bill Gramatica, who injured himself in a similar fashion in 2001.
Never forget.