Global Climate March Shatters Record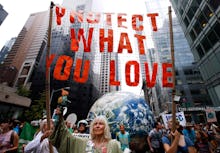 Thousands of people around the world just made climate change history.
Tens of thousands of people across 150 countries took to the streets on Sunday for the "People's Climate March" to demand action on climate change from their governments.
Former Vice President Al Gore, actor Leonardo DiCaprio, scientist Jane Goodall and U.N. Secretary General Ban Ki-moon joined a throng of activists, scientists, students and elected officials who took to New York City's streets Sunday for a massive march meant to sound the alarm about climate change.
Heres what the march in New York City looks like from above:
"It shows we have power,"  Sierra Club Executive Director Michael Brune told Politico of the march. "It's a diverse coalition. It's broad and it's growing in strength and it's growing in diversity. And it's increasingly impatient at the rate of progress."