DeSean Jackson's Return to Philly Was Just as Insane as You'd Expect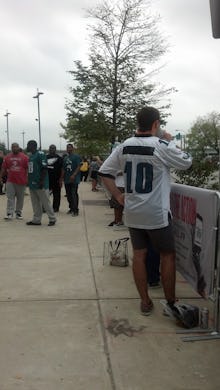 Maybe you heard, but the Philadelphia Eagles released DeSean Jackson this offseason. 
On Sunday, the three-time Pro Bowl wide receiver made his first appearance in South Philly since signing a three-year contract with NFC rival Washington in April.
It was kind of a big deal.
A cartoon in the local newspaper set the tone for an afternoon of ill will.
Eagles fans incinerated his jersey in the parking lot ...
... left it for roadkill ...
... and tarnished it in ... some unidentifiable substance.
There was even a dunk tank. (You've got to admire the creativity.)
And then a football game happened.
It didn't take Jackson long to bring attention to himself: He caught a six-yard pass on the game's second play.
After his second reception a few plays later, the 27-year-old provoked his former teammates and drew a 15-yard penalty from Philadelphia's Nate Allen.
He played to the crowd at every available opportunity. 
Then in the second half of a back-and-forth game, the mercurial wideout broke free for an 81-yard touchdown and mocked the home team.
Then with the score at 27-27 in the fourth quarter, a cheap shot by Washington's Chris Baker on Philadelphia quarterback Nick Foles ignited a fight between the clubs.
It was pretty bad: Baker and Philly's Jason Peters were ejected. But the 5-foot-10, 178-pound Jackson stayed to the periphery.
But that only seemed to inspire the Eagles, who scored the next 10 points and held on for a 37-34 victory.
Said Eagles cornerback Brandon Boykin: "It's a division game so of course the headline of DeSean Jackson coming back will make it a little bigger. But like I said, it wasn't bigger to us. He had a chip on his shouldder, I'm sure, his teammates wanted to back him up. So I'm sure they had a little attitude. It didn't matter though: This is our home field and we are going to defend it no matter what."
Jackson finished with five catches for 117 yards and a touchdown, but Eagles linebacker Emmanuel Acko enjoyed the last word.
Jaccpot, Philadelphia.