'South Park' Destroys Dan Snyder and the Washington Redskins With This Amazing Trailer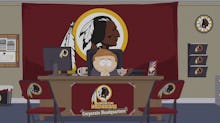 YouTube
The news: The NFL has been plagued with scandals galore lately, and on top of everything that's been going on, the controversy over the Washington Redskins' name is still going strong — even in the fictional town of South Park, Colo.
On Sunday, Comedy Central debuted a new promo for South Park's 18th season. In the short teaser, Cartman decides to name his new company "Washington Redskins" — and runs into objections from team owner Dan Snyder, coach Jay Gruden and quarterback Robert Griffin III.
Watch the clip below:
"Guys, guys, I have total respect for you. When I named my company 'Washington Redskins,' it was out of deep appreciation for your team and your people," Cartman says.
The best part: While the clip is up online, it aired as a TV ad only in Washington, D.C. — specifically during the Washington Redskins-Philadelphia Eagles game. If that's not making a statement, we don't know what is.
And in case you were wondering, yes, Cartman is absolutely right in regard to the Redskins' trademark. Back in June, the U.S. Patent and Trademark Office canceled the team's six federal trademarks, pointing out that the name is "disparaging to Native Americans" and therefore not eligible for protection under federal law. There have also been calls to take even more drastic action, with Sen. Maria Cantwell (D-Wash.) removing the NFL's tax-exempt status for failing to adequately address the issue.
But that's not all: The continuing debate over the Redskins' name has brought attention not only to the NFL's behavior, but also to the thousands of high school, college and amateur teams that use ethnic slurs and stereotypes associated with Native Americans.
So as Cartman probably learned, just because a formerly trademarked name is now up for grabs doesn't mean you should go for it — especially if it's a derogatory term dehumanizing a historically oppressed ethnic group.
South Park returns to Comedy Central Wednesday.