"Fuck It, I Quit:" TV Reporter Quits on Air to Focus on Fighting for Legal Marijuana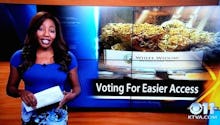 YouTube
The news: A reporter for KTVA News, the local CBS affiliate in Anchorage, Alaska, spent her latest (and what would turn out to be her last) live news segment in a somewhat unorthodox way. 
In the middle of a live segment, Charlo Greene admitted being the owner of the Alaska Cannabis Club and said she wanted to spend more time focusing on Alaska's marijuana legalization movement, ending the unexpected speech with "Fuck it, I quit."
Watch the clip below: 
"I — the actual owner of the Alaska Cannabis Club — will be dedicating all of my energy for fighting for freedom and fairness, which begins with legalizing marijuana here in Alaska. And as for this job, well, not that I have a choice but ... fuck it, I quit," she said in the segment. 
The Alaska Cannabis Club she mentioned is currently hosting an Indiegogo campaign looking for $5,000 to "help us inform Alaskan voters across our expansive state."
Unsurprisingly, shortly after the segment aired, the station's news director issued a formal apology over social media outlets:
Soon after that, Greene released this "Why I Quit" video on YouTube explaining her distaste for current marijuana laws in Alaska and the United States.
Double-edged sword: While Greene's actions are in a way somewhat admirable — she came out and said exactly how she felt — a few questions are immediately raised regarding Greene's involvement with the Alaska Cannabis Club at the same time she was an on-air reporter for KTVA, where she spent a lot of her time covering marijuana-legalization stories. 
As Mashable points out, Greene has covered numerous stories that seem to back the fight for legalizing recreational marijuana and has even used the Alaska Cannabis Club as a source in her own stories. The details are not entirely clear, but Greene seems to have skirted a fine line between reporting the news objectively and making the news itself happen subjectively. Despite its recent and impressive progress, the marijuana legalization movement is in a constant uphill battle, and every setback or shady dealing like this is just another roadblock. 
Currently, medical marijuana is legal in Alaska, and this November the state will have the chance to vote to legalize the drug for recreational use. According to a poll from earlier this year, 55% of voters are in favor of its legalization, while 39% oppose. 
At the time of publishing, the Alaska Cannabis Club's Indiegogo campaign had raised $826 of its $5,000 goal with 16 days left. 
h/t Mashable