Seahawks Cornerback Proposes to Girlfriend After Dramatic Win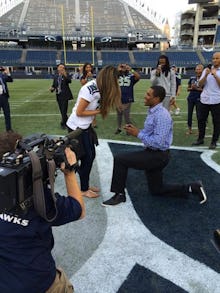 A dramatic 26-20 overtime win over the Denver Broncos was just not enough good news for one day for Seattle Seahawks defensive back DeShawn Shead on Sunday.
After winning the hotly anticipated rematch of February's Super Bowl, Shead dressed up in a blue-and-white-checkered dress shirt and called his girlfriend, Jessica Martinez, on to CenturyLink Field. What were regular postgame celebrations turned into something much more heartwarming and special. 
With a perfectly planned setup — Bruno Mars' "Marry You" playing in the background, rings and hearts going up on one screen and "Will you marry me Jessica?" written on another — Shead went down on a knee and proposed to his girlfriend. 
Videotaping the big moment were some of Shead's teammates including Jeron Johnson, Richard Sherman, linebacker Mike Morgan and defensive end O'Brien Schofield.
Shead announced on Twitter that she said yes:
And Martinez followed it up with an Instagram post saying it was the best day of her life. 
"Football is what brought me to Washington, for me to meet her, so I think this is a big part of our relationship," Shead told local news channel KIRO TV as Martinez, who's born and raised in Seattle, stood next to him holding a bouquet of red roses. 
Hours before the NFL draft this year, Eric Ebron, who now plays tight end for the Detroit Lions, had proposed to his girlfriend of two years atop the Empire State Building. But Shead was the first one to put a ring on it during the season. 
Fortunately for him, it came after a winning day on the field.