This Trailblazing Woman Just Made Hockey History in Finland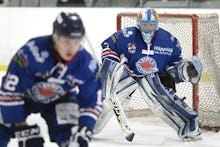 Noora Räty, who starred for the Minnesota Golden Gophers in college, became the first Finnish woman to play in a men's professional league this weekend. And she was stellar: Räty saved 30 of 31 shots in Bewe TuusKi's 5-1 victory over the Porvoo Hunters. She kept a shutout for 49 minutes.
Räty caused a stir in February when, during an Olympics where she helped the Finnish women's hockey team to a fifth-place finish, she announced she would retire from ice hockey unless she could play in a "competitive" league. The only truly professional women's hockey league is in Russia, but Räty wrote "I don't think this league would challenge me enough." There a Canadian women's hockey league, but it does not pay its players. Räty didn't want to take on full working and training schedules at the same time.
Since there were no women's leagues competitive enough to suit her, Räty wrote she would have to choose a "work career" if she didn't sign with a men's team. She signed a one-year deal in March with Kiekko-Vantaa of the Mestis league, a squad in Finland's second division with an evil-looking fish for a logo. She has been on loan to Bewe TuusKi, a third-level affiliate of Vantaa.
According to a rough translation of a Swedish-language report posted on Reddit's hockey forum, Bewe TuusKi's coach said that Räty kept the team in the game at times in the second period, and a team executive said she drew a big crowd.
Image Credit: im.mtv.fi
If Räty does suit up in the Mestis league, she'll be the second woman to play in it. The first was Canadian hockey legend Hayley Wickenheiser played for Team Salamat in 2003. Wickenheiser, who also played in a men's league in Sweden, is widely considered to be the greatest women's hockey player of all time.
Räty is the first Finnish woman to play in a men's game. In North America, Quebec's Manon Rhéaume signed a deal with the Tampa Bay Lightning in 1992. She played one period of exhibition games in 1992 and '93 and gave up two goals in each one. In 1992, Rhéaume was the first woman to play in a regular season pro game when she appeared for the Atlanta Knights of the International Hockey League.
Räty's retirement from women's hockey drew attention to the lack of a professional women's hockey league in Canada or the United States. Räty said she couldn't continue working full time while also training for high-level women's hockey — she admitted trying to do both was giving her less time to train and practice.
"Even if I love my job at MEGA Goaltending, working full-time and trying to train like a pro-athlete at the same time was extremely difficult for me prior to the Olympics," Räty wrote in her retirement announcement. "My body never got enough rest and I was close to getting burned out several times. And what did I do if I felt like I needed to get some extra rest? Skipped a workout/practice because I can't skip work."
NHL Commissioner Gary Bettman said a consultant had looked into the idea of a Women's National Hockey League, but said that "the overall development of women's hockey at the grassroots level through the college level isn't at a point where a professional league is viable."
Räty said in February the women's game couldn't survive unless high-level players can make a living out of it. "In fact, I don't feel that women's hockey can grow or get any better in the future if the USA or Canada don't get a professional league started soon," Räty wrote. "That is the next critical step that our sport needs to take or our sport will never be respected like it should be. Asking players to work full-time and then training like a pro athlete at the same time is just too much and unfair."
"I'm done living from hand to mouth and now it's time to start building wealth and think about my future," she continued. "And I'm not the only player having this problem…. the majority of female players have the same problem."