George Takei's Hilarious PSA Holds an Important Message Everyone Needs to Hear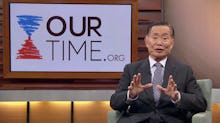 YouTube
George Takei wants you to save the gay babies of the future by registering to vote.
In a hilarious new PSA aimed at young people and premiering on VF Daily, original Star Trek star Takei exhorts the "straight young couples" of today to begin giving a crap and exercise their democratic rights, because they will give birth to and raise "the gay babies of tomorrow."
"I'm George Takei, and I'm straight... up asking you to vote," intones Takei. "I'm especially concerned about the future of this country, because I'm concerned about the gay people of the future. We need to ensure their good life, by registering to vote."
Released a day before National Voter Registration Day on Tuesday, Takei's promotional video is part of a multifaceted campaign involving other YouTube celebrities and online social media stars. Creators Our Time, which leverages social media power-users with hundreds of thousands or millions of followers, told Vanity Fair that they had managed to enlist around 350,000 new voters in 2012, largely from people like Takei, who has nearly eight million Facebook fans.
This isn't the first time Takei, a well-known gay activist, has used his online pull and sense of humor to advocate for equal rights. In 2010, Takei recorded a direct message to a homophobic Arkansas school board member who encouraged gay kids to kill themselves calling him a "douchebag," politely suggesting the man was sexually repressed:
A few years later, he also recorded this "Gays Beware" PSA (a parody of the vitriolic anti-gay "Beware Gays" PSAs of the 1950s) in favor of marriage equality, saying, "The most important thing to remember when dealing with people who don't support marriage equality is to be kind. They are most likely hiding their own sexuality. Besides, these people don't know they're being assholes."
So if you're a fan of Takei's work on the screen, on Facebook or promoting human rights, do like the man says and register to vote this week, if you haven't already. The 2014 midterms are just a few short months away. While the public now supports marriage equality by wide margins, an awful lot of anti-gay candidates are itching to get into Congress.