An Artist Combined Magazine Covers With Classic Art With Fantastic Results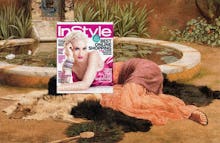 Twenty-nine-year-old Filipino artist Eisen Bernardo is literally merging the classical with the modern with his project Mag + Art, which seamlessly combines contemporary magazine covers with classic portraits by artists like Picasso, Boticelli, Boucher and van Gogh.
The result is oddly beautiful and compelling, juxtaposing images that, despite being separated by centuries, share eerily similar aesthetics.
"I just felt that magazine covers (like other contemporary art forms) were inspired directly (and/or indirectly) by classical paintings," Bernardo told Mic over email. "The similarities and references can be observed. It is my way of comparing and contrasting modern and classical aesthetics. Also, in this day when everyone is saying that 'print media is dead,' it is a way of promoting the print medium to the internet generation ... It is my way of giving homage to the magazines — as venue of human artistic expression and vehicle of popular culture."
Bernardo adds that he wants to show how notions of art and beauty have evolved across generations, but that similar themes and subjects have survived intact. "Do we still see a naked woman as an object of art/beauty?" he asked. "Do the celebrities/models on cover can be considered as muses of the contemporary masters? Can the layout of the contemporary magazine covers, the art direction, photography, typography be considered fine art (equal to painting, sculpture, etc.)?"
The project, Bernardo said, evolved as a continuation of his previous work combining classical portraits with images from FHM Philippines, mainly featuring bikini- or lingerie-clad models and celebrities cavorting alongside their historical counterparts.
"Many say that it is parody of current culture, that what the society reveres is the celebrity," Bernardo said. "Some even expressed that the work says something about feminism/objectification of women in the arts/media.  Actually for some, they don't see this as art, more of an internet meme. Some really hate my mag+art project, saying that I just copied existing works and just copied and pasted them using computer software."
"Most of my images are intended to be funny, sarcastic, ironic. There are visual puns all over. Majority of the viewers in the internet feel amazed and fascinated," he added. "Some hate me, and question my integrity as an artist. I'm happy about that, because discussions on various issues in arts are being addressed such as the definition of art, the artist, originality and other things."
Bernardo says that he is looking into transferring his work into a physical form for an exhibition, but he's concerned about copyright issues. So far, all of the galleries that have reached out about hosting his work are based in the Philippines, but he's had significantly more recognition on the Internet.
For more of Bernardo's work, check out the project's Tumblr page, Mag + Art.