John Kerry Warns Climate Change Deniers: Mother Nature Is 'Screaming At Us'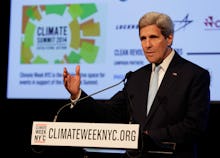 Secretary of State John Kerry says that Mother Nature "is screaming at us" about climate change, imploring world leaders to take action before it's too late.
Kerry's comments come as the United Nations convenes in New York City for a climate summit and one day after the massive People's Climate March drew hundreds of thousands of demonstrators to the streets. The Hill reported Kerry's comments, which were delivered on the opening day of Climate Week NYC:
Kerry said the administration could make "a powerful argument [climate change] is the most serious challenge we face on the planet since it is about the planet itself."
In a dig at climate-change deniers, the secretary of state said that "it doesn't cost more to deal with climate change, it costs more to ignore it ... and we need to make that clear to people in this country."
Kerry also noted that the U.S. and other countries are not doing enough to curb emissions. He announced a plan to contribute $15 million to a new auction program meant to cut the release of methane into the atmosphere.
President Obama will address the U.N. Climate Summit on Tuesday and is expected to make climate change a central focus of his address. The summit this week is the start of a process that will end in Paris in 2015, when world leaders hope to sign a deal to cut carbon emissions. The administration has signaled it intends to move ahead with an international climate pact even without Senate approval. 
Hopefully policymakers get the message. Global greenhouse gas emissions rose by 2.3% in 2013, which the New York Times characterized as "the latest indication that the world remains far off track in its efforts to control global warming." Emissions in the U.S. rose 2.9%, bucking a downward trend in recent years.
h/t Huffington Post