A Heart-Warming Clothing Line Caters to the Unique Needs of People With Down Syndrome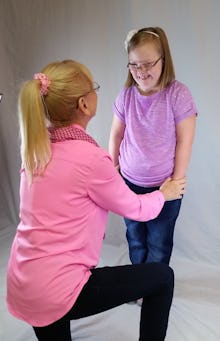 Kickstarter
Here's some uplifting news: A heartwarming Kickstarter campaign has successfully raised over four times its original target, expanding access to sharp, well-fitting clothing for individuals with Down syndrome.
Downs Designs produces jeans, capri pants and shirts for people with Down syndrome, a genetic disorder that leaves those afflicted with developmental delays and intellectual disability. Those with Down syndrome are physically built differently than other people, and as a result often lack access to well-fitting clothes, furthering negative perceptions of people who have the disorder and increasing the condition's social stigma.
To combat this, Downs Designs owner and founder Karen Bowersox told KPTV that she began the clothing line in 2009 after noticing her granddaughter Maggie's clothing didn't fit and couldn't find items that would. She explained the unique fashion challenges facing those with Down syndrome:
"The femur [of those with Down syndrome] is so short, so when you have a pair of pants, a standard size pair of pants, they don't taper at their knee. They can roll up a shirt sleeve four or five times. So many times they look like they're wearing someone else's clothes because they can't find clothes that fit."
Options were limited. Regular clothing can't be easily altered to fit a person with Down syndrome, while no existing companies offered selections tailored to their physiology.
So the grandmother founded Downs Design, hired a designer and built a company that has now been operating for over four years. Each item of clothing is individually designed according to the eventual owner's exact measurements, while the company pays for the back-and-forth shipping necessary for precise alterations. Bowersox refers to this process as "Down sizing." Along the way, she built a loyal customer base and accumulated glowing reviews from people with Down syndrome, their friends and families:
The recently concluded Kickstarter, which raised $22,651 instead of the original target of $5,000, is intended to expand the fashion options available on her website. With the new funds, Bowersox can offer this stylish T-shirt, spreading a healthy message about Down syndrome:
"My goal with [Downs Designs] is to totally get these pants to fit these kids so they have something in their closet they can wear. I'm so fulfilled with what I do, I can't sleep," Bowersox told KPTV. "I can't wait to get up every day and go to work to see what I can do for the next person, see how many lives I can help."
"When [people with Down syndrome] are forced to wear clothes from everyday stores, the clothing makes them look different. All you see is the Down syndrome," Bowersox added on the Huffington Post. "When they wear our pants and they fit and they look and feel more comfortable, they can be confident in themselves. You don't see the Down syndrome anymore."
Correction: Sept. 24, 2014
An earlier version of this article referred to individuals with Down syndrome as "Down syndrome patients." The language of this article, as well as the headline, has been updated to reflect that individuals with Down syndrome are not "patients."