This Brutal Law Enforcement Agency Is Giving America's Police a Run For Their Money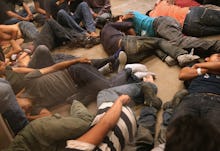 Eric Garner. Michael Brown. Ezell Ford. John Crawford III. Through these and other names, Americans have grown intimately familiar with the scope of police violence in recent months. 
Yet amidst all the marches and cries for reform, one branch of law enforcement is making police look like pillars of accountability and progress: the U.S. Customs and Border Protection Agency.
How: Since 2010, border agents have killed an estimated 31 people — mostly immigrants from Mexico and Central America, but at least nine U.S. citizens as well. The Southern Border Communities Coalition compiled a database of these cases and discovered a troubling pattern: Only three resulted from incidents involving armed suspects. 
The rest range from retaliatory gunfire used against alleged "rock throwers" to the disputed shooting of 46-year-old Amado Rodriguez, who had been paralyzed and confined to a wheelchair since age 17, according to the El Paso Times.
And there are plenty more: An especially horrific incident occurred in October 2012, when Jose Antonio Elena Rodriguez, age 16, was shot eight times in the back by a Border Patrol agent. His crime? Throwing rocks over the fence — from the Mexican side, according to CBS NewsBS News.
It gets worse: Yet despite a growing outcry from police experts, activists and Mexican officials, disciplinary action was taken against agents in precisely zero of these cases. In fact, U.S. Customs and Border Patrol hasn't disciplined a single officer in a deadly force investigation in the past 10 years, the Los Angeles Times reports.
While the sheer number of Border Patrol killings pales compared to what America's police departments commit each year — over 400, according to the FiveThirtyEight — the lack of consequences for their actions is remarkable. The Times cites this absence of disciplinary follow through as one of the reasons the agency will finally start staging internal investigations into officer misconduct this year.
It's about time. Up until now, CBP was instead beholden to external investigations, which were generally ineffectual and failed to stem criticism of the agency's unwillingness to explain why its officers used deadly force in these cases. The FBI is now looking into 14 shootings and 141 incidents of alleged misconduct, the Times reports. According to CBS News, CBP will contribute by investigating "67 excessive force cases including the [Jose] Rodriguez shooting."
Still, expectations should be tempered: "Based on their history, we are concerned they may not be neutral investigators of their own officers," Michelle Brane of the Women's Refugee Commission told the Times. "But at the beginning, we have to give them a chance to do so."
This is especially questionable considering how "internal investigations" in Ferguson, Mo., have gone thus far.
Background: Over the past year, the number of refugees fleeing gang violence and poverty in Central America and seeking to enter the U.S. along the Mexican border have prompted violent reactions from citizens and government alike.
Whether it's anti-immigrant protests or an increasingly militarized border patrol force, the message to the refugees has been made quite clear: You are not welcome here.
The result, in part, has been a permissive attitude toward the sort of Wild West vigilantism that allows for trigger-happy approaches to border "protection" — whether by agents, regular citizens or even the governor of Texas himself:
What a mess. With so many innocent lives at stake, change can't come soon enough.
h/t Colorlines