What's the Most Important Job Skill To Have in Your State? Check These Maps.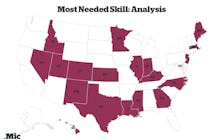 If you're on the job market, chances are you should brush up on your analysis skills.
That's according to data provided to Mic by LinkedIn and Hunch Analytics, a technology consultancy.
The data shows the most frequently mentioned skills in job openings for each state, indicating which skills are most in demand. The word "analysis" is the most common word on job descriptions in 19 states and Washington, D.C.
Other top skills include "human resources," "recruiting," "leadership" and "strategy," so if you're already an analysis pro, those might deserve your attention.
Check out the maps below to find the most-needed job skill in your state.
1. Analysis
2. Recruiting
3. Human Resources
4. Strategy
5. Enterprise Software
6. Leadership
7. Hiring
8. New Hire Orientations
9. Networking
10. Finance
11. Problem-Solving
12. Presentations
13. Software Documentation
These skill maps are part of a broader public-private partnership, to which Mic is a contributor, that is using data to improve the job market for recently returned U.S. veterans. Check out the project at veteranstalent.io.
One of the goals of the partnership is to close the "skills gap" that exists for veterans looking for private-sector jobs for the first time. In many cases, this is a matter of translating skills from the military to skills that employers understand (for example, "counterintelligence" to "analysis").
The data isn't a perfect view into the overall job market, because it's skewed towards employers who have indicated a preference for hiring veterans. That includes large employers like JPMorgan Chase, Dell, Sears and Starbucks, as well as thousands of smaller companies.
However, the skills maps are based on more than 800,000 job listings, providing a meaningful view into which skills are in demand around the country.
Data source: Top skills in each state computed by LinkedIn and Hunch Analytics. Analysis conducted with 849,800 job openings contained in the National Resource Directory and National Labor Exchange, as of March 2014. Job openings correspond to employers who have indicated a preference for veterans. "Leadership" is the most common skill for most states, and so this analysis looks at the second-most common skills in each state to identify meaningful differences.