Japan's Black Burger King Hamburger Is Even More Disgusting in Real Life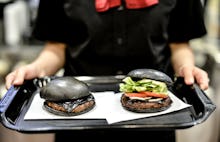 The news: You know how fast food never quite match how it looks in TV commercials? Well, Burger King's new all-black Japanese hamburgers didn't quite look appetizing from the start — and in action, they look even worse.
ICYMI: Earlier this month, Burger King previewed two new hamburgers for its Japanese locations. While the color might be off-putting, it's actually made with pretty cool ingredients: bamboo charcoal in the buns and cheese, black pepper patties and a sauce made out of onion, soy and squid ink. While the Kuro Pearl version is jet-black, the Kuro Diamond version has some regular-colored toppings as well:
But as eye-catching as the ads might have been, the real-life result is decidedly unappealing:
Perhaps the most disappointing thing about the burger is that despite its visual impact, the taste simply isn't memorable. According to a mixed review by the Associated Press, the burger isn't terrible — it's just not that great, either.
"If you can get past the shocking color, it's not bad," the wire service reported. "But if you're expecting a totally different taste just because of the color, it might fall below expectations."
That's not exactly ringing endorsement, but if you're in Japan and feeling adventurous, you can get a Kuro Pearl for 480 yen ($4.39) and a Kuro Diamond for 690 yen ($6.31).