The 1.3 Million People We Rarely Remember When We Talk About Homelessness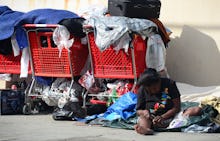 The news: While Miley Cyrus may have shone the national spotlight on youth homelessness during the MTV Video Music Awards last month, the issue looks bleaker than ever.
According to a new report released Monday by the U.S. Department of Education, homelessness among U.S. public school students is not only on the rise, it has hit a record high: 1.3 million children were identified as homeless in the 2012-2013 school year, an 8% increase from the year before.
The report also found that around 75% of these students were living in "doubled-up" situations, where multiple families share a residence due to economic hardship (defined as a homeless situation under the McKinney-Vento Act). Around 16% lived in shelters, another 6% lived out of hotels or motels and 3% had no shelter at all. About 76,000 students said they lived on their own.
And the situation is not likely to improve until the greater economy does. "While the economy may be coming back some, people are still having a hard time making enough money to afford and find affordable housing," Bruce Lesley, president of the nonprofit group First Focus Campaign for Children, told the Associated Press.
What does this mean? While 1.3 million children being homeless seems like an impossibly high number, housing advocates and homelessness activists say it's likely much bigger — after all, the current figure doesn't count homeless infants and toddlers who are too young for school or children not identified as homeless by school officials.
Despite the shocking numbers, the issue has had little traction in the mainstream media:
As previously reported by Mic, homeless students have the cards stacked against them: Around 75% end up dropping out of school, further underscoring the incompleteness of the Department of Education data. And those who try to go to school often have a hard time enrolling due to the lack of formal documentation such as proof of residence and immunization and medical records, as well as difficulty with transportation to and from school — meaning many of the students who dropped out may have been forced to do so by their circumstances.
Coupled with the U.N. declaring that America's treatment of homelessness "raises concerns of discrimination and cruel, inhuman or degrading treatment," the issue of youth and child homelessness is something that the country can't afford to sweep under the rug any longer. And if it takes Miley Cyrus to call our attention to it, so be it.