John Oliver Just Eviscerated the Hypocrisy of Miss America's Pageant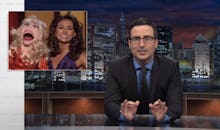 "The biggest scholarship program exclusively for women in America requires you to be unmarried with a mint-condition uterus and also rewards working knowledge of buttock-adhesive technology."
Where does one even learn buttock-adhesive technology, anyway? John Oliver's complete skewering of the Miss America Organization during the latest segment of Last Week Tonight reveals the perverse relationship the pageant creates between women's bodies and their brains. More than that, however, Oliver exposes the lie behind the organization's presumed cultural significance: that it offers $45 million dollars annually in scholarships to women.
Demonstrating how he's become the leading satirist and purveyor of truth on late night TV, Oliver examines the antiquated traditions associated with the pageant, in which any attempt to gauge the intelligence of contestants is overshadowed by sexist objectification. As Oliver puts it, "The intelligence portion of the brain is located somewhere on the upper thigh."
Upon exploring the Miss America Organization website and studying its tax documents, however, Oliver said he discovered much more than he bargained for, beyond its obsession with bikinis and butt tape. The organization claims to give out "$45 million dollars annually," but, as a registered nonprofit, it "spent less than $500,000 in cash scholarships" in 2012. 
That is way less than $45 million.
Image Credit: Getty
The catch, Oliver explained, is that the organization declares itself a "provider," which means that it "counts all scholarships provided to contestants," regardless of whether those contestants actually attend those colleges or not. So, for example, of the more than $2 million the organization claims to have given to Troy University, none was ever disbursed because no female contestant decided to attend.
What's heartbreaking about this entire scenario, Oliver pointed out, is that the Miss America Organization is still the "largest scholarship program exclusively for women" in the United States, even though it distributes a fraction of the money it "provides," and even though it allocates its funds based on sexist notions of female beauty. 
The video quickly went viral, prompting a response from the pageant organizers, who, incredibly, didn't even really attempt to offer a rebuttal:
"John Oliver reaffirmed that the Miss America Organization is the largest scholarship organization for women when he stated the number of scholarship dollars claimed '…is more than any other women-only scholarship we could find.'"
As ThinkProgress's Jessica Goldstein noted earlier this week, it's pretty incredible that no one ever looked into this before. "Why did it take so long — why did it take a comedian, whose primary job is not to serve as a de facto investigative reporter — to bust the $45 million myth?" she wrote. "There's something astonishing in how the Miss America Organization has gotten way with that '$45 million in scholarships' tagline for so long; in an age of aggressive fact-checking and myth-busting, we've collectively allowed this lie to go unexamined."